A new solution for conformal cooling is available in the HASCO TempFlex.
[ut_blockquote_left] No deep-hole boring and plugging gives cost reduction for manufacturing mould plates. [/ut_blockquote_left] The flexible metal-braided hose allows fast and simple assembly and interchangeability, and is adaptable to most groove patterns.
Made of stainless-steel corrugated tubing, they are laid into channels milled into the surface of a mold plate.
They can bend to conform to almost any curved or angled shape and can extend across pockets without leaking.
With this technology we have a quick and effective way to get close the part contours and can deliver tools with shorter cycle times and even cooling patterns.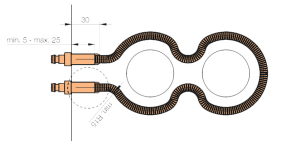 The TempFlex is available in 3 different lengths (500, 750 and 1000mm).
It has a diameter of 8mm, and an interference fit in a 7,8mm slot that we cut in our plates.
For optimal results we recommend the use of a thermally conductive silicone encapsulant (thermal paste) such as the SE2003. [ut_blockquote_right] Heat transfer increase of 5000% in the areas where gaps are present [/ut_blockquote_right]
They come at a cost of approximately 100USD per Kg, but will increase the heat transfer to an even higher level.
An air gap has got a thermal conductivity of 0.025 W/m·K while a good silicone encapsulant has got around 1.25 W/m·K giving you a heat transfer increase of 5000% in the areas where gaps are present.
| | |
| --- | --- |
| Material | W/m·K |
| Air | 0.025 |
| Oil | 0.15 |
| Thermally Conductive Silicones | 1.25 |
| Stainless steel | 15 |
| Aluminium | 220 |
Please feel free co contact us at The Tool Hub if you have any questions about using the TempFlex in your next tool.