There are many ways to achieve an accelerated ejector pin movement, but for its simplicity and reliability we often turn to the Strack Z141 acceleration rocker.
The rocker pin is pushed forward an extra 7,6mm when the ejector set has reached its forward most position.
This is normally enough to get a tricky part to release OK and automatically de-mold.
The construction height is only 34mm so our standard ejector plates can be used without any added mold heights needed.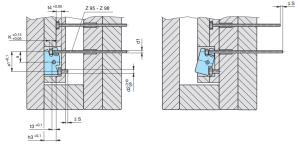 Please feel free to contact us at The Tool Hub for more information and other solutions for safe and consistent de molding.